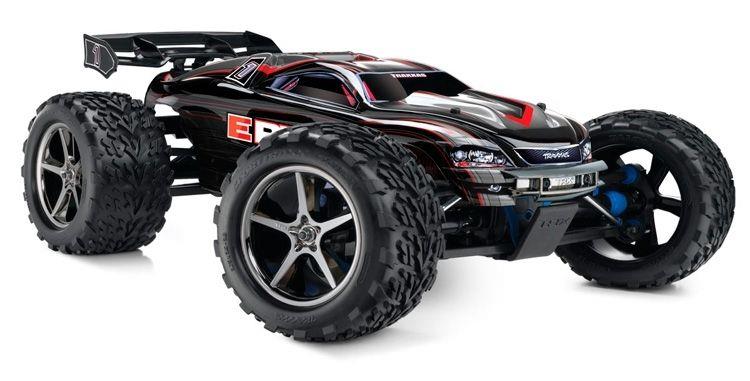 E-Revo 4WD Monster RTR TQi
Artikelnummer

10TRX56036-1

Lagersaldo

0

Externt lager

0

Frågor?
7 076 kr
Beskrivning
Traxxas TQi 2.4GHz Radio System16.8 Volts of Pure E-Revo® InnovationState-of-the-Art Integrated Chassis DesignWater-Sealed ElectronicsHard-Anodized PTFE-Coated Aluminum ShocksNEW! Traxxas ID Power Cell Batteries IncludedNEW! 4amp DC ChargerTop Speed: 48+kmh!
Take one look at the body and you know something here is different. Underneath the sleek, artful skin, light reveals an engineering master work. E-Revo. While others make noise about the same old things, E-Revo emerges as the most advanced electric monster truck ever created. It could only come from the minds of Traxxas.
E-Revo is equipped with the world's most advanced Ready-To-Race® radio system. The all-new Traxxas® TQi™ arrives with a full complement of tuning features and offers the unbeatable convenience of "no channels, no crystals" 2.4GHz technology—but that's just the beginning. Automatic model recognition instantly recalls your settings for up to 30 Traxxas Link-enabled models. Just switch on and drive, no naming or "model memory" settings required. Power up the transmitter and the model you want to drive, and the settings for that model are dialed in immediately! The new TQi 2.4GHz transmitter is fully adjustable: steering and throttle end points can be set precisely, and the Multi-Function knob can be programmed to control Steering Sensitivity (Expo), Throttle Sensitivity (Expo), Steering Percentage (Dual Rate), Braking Percentage (Dual Rate), or Throttle Trim. TQi's ergonomic case design provides all-day driving comfort, and the unique internal antenna contributes to its sleek, modern look.
Produktinformation
Tillverkare

Traxxas

Tillverkarens artikelnummer

TRX56036-1

Passande bilmodeller

Okänd