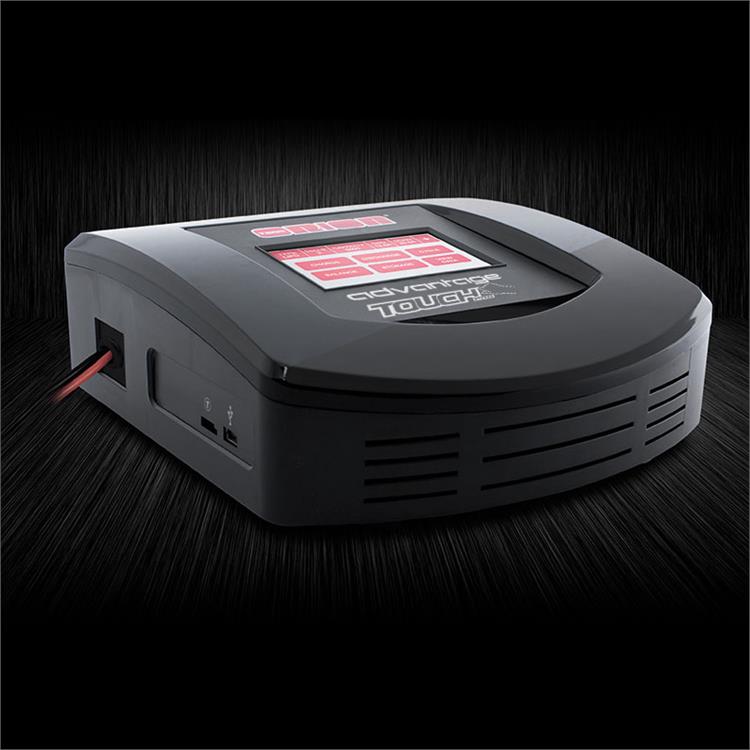 Advantage Touch Pro 12VDC
Artikelnummer

34ORI30205

Lagersaldo

1

Redo att skickas

2023-06-12

Frågor?
Just nu: 849,50 krOrdinarie pris: 1 699 kr (50% rabatt)
Beskrivning
The Advantage Touch Pro charge is our most powerful touch technolgy charger. It can charge and discharge your batteries at a high rate allowing you to squeeze out the maximum performance out of your batteries. A must for the serious competitors!

Packaging Contents:

·Advantage Touch Charger w/power cord

·4-in-1 Balancing Board (XH, TP/FP, EH and HP/PQ)

·TRX, Deans, Tamiya, crocodile, EC3, BEC and Futaba charge leads

·USB cable for firmware upgrade

·Instruction manual and Quick Start User Guide

Functions:

·12A charge 20A discharge

·4-in-1 Balancing Board

·Charge assistant

·Multi-lingual interface - 6 languages pre-installed!

·Graphic charge/discharge display

·Graphic balancing display

·Upgradeable software via USB

HPC Processor

It's important that the charger gives the battery a complete charge, no matter the type and original status of the battery. Through extensive R&D we have found the best charge and discharge profiles to ensure a safe and reliable charge and discharge, time after time. The high precision charging circuitry manages the charge and discharge with unprecedented levels of accuracy, delivering optimal battery performance charge after charge.

Spectra TFT Screen

On a device such as this one, the screen is a very important part of the charger. The 3" 400x240 color TFT-LCD display combined with our specialized ATTS touch software offers an exclusive "touch" experience for the user. Selected high grade components ensure a flawless and intuitive experience, the information is clearly displayed on the screen and the touch screen precisely registers the user input. Thanks to it's "touch" input, the charger reaches new levels of usability and interactivity.

ATTS Software

The ATTS software was specifically designed for the Advantage charger, its interface offers both ease of use for beginners and customizability for experienced users. All of the information is clearly displayed on the high-resolution color screen, this means that having to read lengthy user manuals is a thing of the past, the charger offers a very intuitive experience. To make things even simpler for users with limited knowledge, a setup assistant helps the user to setup to charger.

Advanced Balancing

The Advantage Touch charger is equipped with a lithium battery balance function. This function enables you to check the status of your lithium batteries and if required it can balance the cells without having to use the charge or discharge functions of the charger. A graphic display and data such has voltage and IR for each cell are displayed on the screen indicating their current status.

Graphics Engine

Thanks to its advanced software and hardware capabilities, the charger can display the current charge and discharge status with a graphic. Graphics give a visual reading of data which can help you better visualize the current state of the battery. You can check the battery charge and discharge voltage curves which may indicate eventual inconsistencies with the battery function.

Charge Assistant

Adjusting the correct parameters into the charger is not an easy task for those that are not familiar with charging batteries. To help out these users, the Advantage Touch charger features a setup assistant which allows you to easily setup the charger parameters by following the onscreen information.

Updatable Firmware

The charger is equipped with a mini USB port. Thanks to this port, you can connect your charger to a computer and update its software. Updated software can improve the capabilities of the charger, it also helps it maintain its original value since you can always have the latest functionalities. Software updates can be downloaded from our website www.teamorion.com/touch.

Multi-Language Software

The latest generation of touch chargers features six pre-installed interface languages: english, japanese, german, french, italian and swedish.
Produktinformation
Tillverkare

Team Orion

Tillverkarens artikelnummer

ORI30205

Passande bilmodeller

Okänd