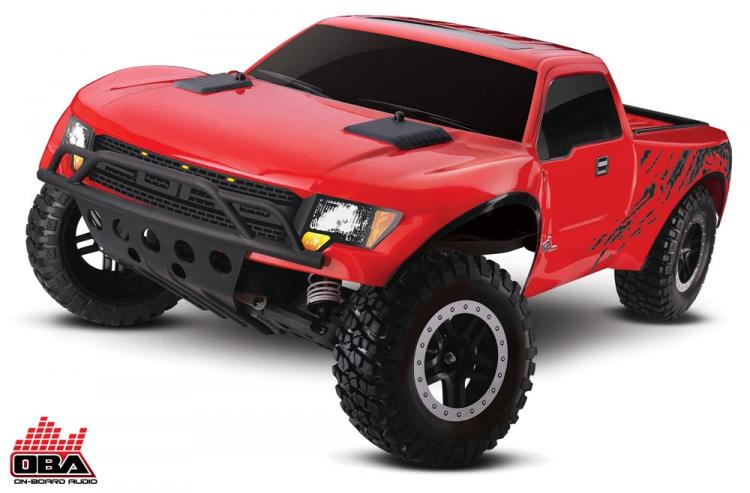 Ford F-150 SVT Raptor 2WD TQ OBA
Artikelnummer

10TRX58064-2

Lagersaldo

0

Externt lager

0

Frågor?
3 838 kr
Beskrivning
Aggressive Ford F-150 SVT Raptor Styling, Award-Winning Slash Performance and On-Board Audio! Ready-To-Race® with TQ 2.4GHz Radio System.
On-Board Audio SystemThe On-Board Audio System uses sound that has been sampled from Traxxas team trucks, including the Traxxas Pro 4 short course truck driven by Traxxas' Mike Jenkins. The ON/OFF button and volume controls let you adjust the system settings, stealth mode to wide-open. The system uses a minimal amount of power from the battery so your runtime is not compromised. The intuitive sounds respond to throttle input from the transmitter. Cruise around or rip full-throttle to hear the difference in engine RPM. If you're stopped for more than 10 seconds, the engine will shut off. Just tap the throttle to hear the engine fire back up! Use the rocker switch on the included 3-channel transmitter to shift to "neutral" and hear the engine revving. Flip the switch, and launch back into racing.
Purpose-built by the Ford Specialty Vehicle Team for unprecedented all-terrain performance, the F-150 SVT Raptor is an off-road powerhouse that can go from the dealership to the desert as quickly as you can drive it off the lot. The Raptor's 6.2L V8 pumps out 411 horses to shred any terrain. Massive 35" tires grip the earth as the Raptor's competition-bred Fox Racing shocks absorb off-road abuse. Fast, powerful, and tough, the Ford F-150 SVT Raptor is now available as a high-performance Ready-To-Race® replica model exclusively from Traxxas. Based on the award-winning Traxxas Slash and molded in black for a tough look, the Ford Raptor model features waterproof electronics for all-weather off-road adventure, rugged independent suspension with long-travel oil-filled shocks, and a powerful Titan 550 motor that delivers 30+mph top speeds. Rubber-sealed ball bearings, heavy-duty steel transmission gears, and high-strength materials assure your Raptor model is "Built Ford Tough" for exciting R/C performance run after run.
Precision 2.4GHz Control Radio SystemWith the TQ™ 2.4GHz radio system, you just switch on and drive. There are no channels or frequencies to manage, so the focus is on having fun. The TQ's ergonomic design is comfortable for all-day driving, and lightweight with just four AA batteries on board (batteries not included). The TQ scores on style with its black-chrome wheel and smoothly integrated handle, and the internal-antenna design gives the transmitter a sleek profile while shielding the antenna from damage.
All-Terrain ExcitementJust like the full-size SVT Raptor, the Traxxas replica is well-equipped to tackle all of your off-track driving adventures. The long travel suspension and oil-filled shocks easily absorb jumps and rough terrain. The unique chassis design provides huge center ground clearance to drive over deep ruts, rocks, and other obstacles that leave ordinary R/C trucks stuck. The officially-licensed BFGoodrich® Mud-Terrain™T/A® tires provide incredible grip off-road with enough versatility to also perform well on concrete and asphalt. The fenders cover the tires so you bang against your driving buddies without getting tangled up.
The Revo-spec Torque-Control™ slipper clutch design delivers smooth operation, precise adjustment, and consistent traction control. The bellcrank steering system virtually eliminates bump steer for precise handling and control. A digital steering servo delivers lightning fast response.
Produktinformation
Tillverkare

Traxxas

Tillverkarens artikelnummer

TRX58064-2

Passande bilmodeller

Okänd