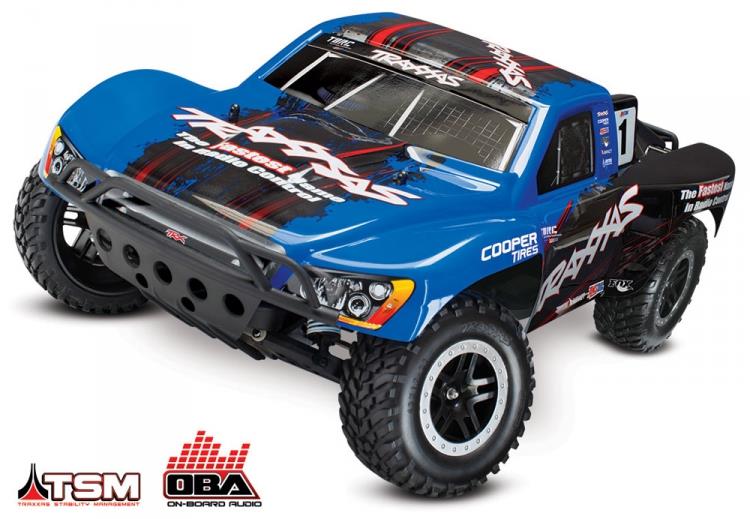 Slash VXL 2WD 1:10 RTR TQi, OBA, TSM
Artikelnummer

10TRX58076-21

Lagersaldo

0

Externt lager

0

Frågor?
5 273 kr
Beskrivning
AMP Up the Realism! The Traxxas Slash VXL Low-CG Pro 2WD Short-Course Truck with Traxxas Stability Management and On Board Audio!
NEW! Traxxas Stability Management (TSM)NEW! Low-CG ChassisNEW! Traxxas On-Board Audio SystemExtreme Brushless Horsepower!4-amp DC Peak Detecting Fast ChargerTraxxas 7-cell NiMH battery with iD™TQi 2.4GHz 3-channel radio system and 5-channel receiverAccess the Traxxas Link App with theTraxxas Link Wireless Module (#6511) (sold separately)Waterproof Electronics for All-Weather Driving ExcitementTop Speed: 96+kmh! (with optional 3S LiPo & optional gearing)
Traxxas Stability Management
[Micro Receiver, TQi 2.4GHz with Traxxas Link and TSM (5-channel) (#6533) (three-quarter view)] This Slash VXL is hard-loaded for ultimate performance and realism with the Traxxas On-Board Audio, new Traxxas Stability Management (TSM) and a low-CG chassis. Traxxas On-Board Audio delivers the full short course experience with the powerful and loud sound of a 900 horsepower engine ripping through the gears. While TSM and the Low CG chassis combine for a whole new level of speed and precision behind the while.
Traxxas Stability Management (TSM) allows you to experience all the extreme power, speed, and acceleration that was engineered into the Slash VXL by making it much easier to control on common slippery surfaces such as loose dirt, smooth concrete, and even ice and snow. Punch it off the line and TSM goes to work sensing the vehicle's direction and making steering corrections to provide straight-ahead full-throttle acceleration without fishtailing, spinouts, and loss of control. TSM also works during cornering, first making intuitive corrections to maintain your line, and then allowing you to hammer the throttle earlier in the turn for much faster exit speeds. Braking is dramatically improved as TSM works to keep you arrow straight until you come to a complete stop. TSM acts as your on-board co-pilot in the vehicle that "feels" what the vehicle is doing and makes corrections for vehicle movements that you cannot even detect, well before the vehicle gets out of control.
Traxxas TSM gives you all the benefits modern electronic stabilization has to offer without intruding on your driving fun. Traxxas engineers developed superior tuning algorithms that run on high-speed, precision electronic components to create a system that works invisibly, in the background, without ever limiting your throttle. TSM can be fine tuned (or turned off) for different surfaces by simply adjusting the multi-function knob on the TQi transmitter, or by adjusting the slider in the Traxxas link app. The result is that you are driving faster, with more ease, and having more fun,with that fully connected feeling at the controls that you expect. In fact, you may not even realize how much TSM is helping you until you turn it off and test your driving skills without it! (click here for more details).
TSM FeatureTraxxas Stability Management  Other SystemsEngineered to work seamlessly in the backgroundUnrestricted throttle controlUnrestricted turning radiusArrow straight braking control to a complete stopAllows user to adjust assistance or turn off during driving  Connected driver feel
On-Board Audio System
The On-Board Audio System uses sound that has been sampled from Traxxas team trucks, including the Traxxas Pro 4 short course truck driven by Traxxas' Mike Jenkins. The ON/OFF button and volume controls let you adjust the system settings, stealth mode to wide-open. The system uses a minimal amount of power from the battery so your runtime is not compromised. The intuitive sounds respond to throttle input from the transmitter. Cruise around or rip full-throttle to hear the difference in engine RPM. If you're stopped for more than 10 seconds, the engine will shut off. Just tap the throttle to hear the engine fire back up! Use the rocker switch on the included 3-channel transmitter to shift to "neutral" and hear the engine revving. Flip the switch, and launch back into racing.
Now Equipped with Low-CG ChassisThe Traxxas Slash VXL with On-Board Audio continues the Slash legacy, building on the award-winning foundation while breaking the mold. This is the first 2WD Slash to receive a factory-installed Low-CG chassis. It's not an option part; the Low-CG chassis comes as standard equipment. The Low-CG chassis features proven Traxxas-Tough durability and moves the battery and electronic components closer to the running surface for increased handling and stability. This means improved agility and higher speeds, on and off the track. No matter where you want to race, you will experience superior handling and maximum corner speed. The Slash VXL with On-Board Audio turns the key on a whole new driving experience.
The Velineon Brushless Power system takes the guesswork out of enjoying the benefits of world-class brushless power. The system components work together as an optimized package, engineered from the start to deliver the ultimate in efficiency, speed, and run time. With the Slash VXL, Your battery selection determines your speed and skill level. Velineon accepts the widest range of battery types, including 3-cell Lithium Polymer packs (3S LiPo packs). These packs pump out over 11 volts of power for intense, skill level 5 speeds beyond 60mph! Nothing else even comes close. Built-in low-voltage detection in the VXL-3s™ Electronic Speed Control conveniently helps you maintain your LiPo battery packs in top condition.
Produktinformation
Tillverkare

Traxxas

Tillverkarens artikelnummer

TRX58076-21

Passande bilmodeller

Okänd