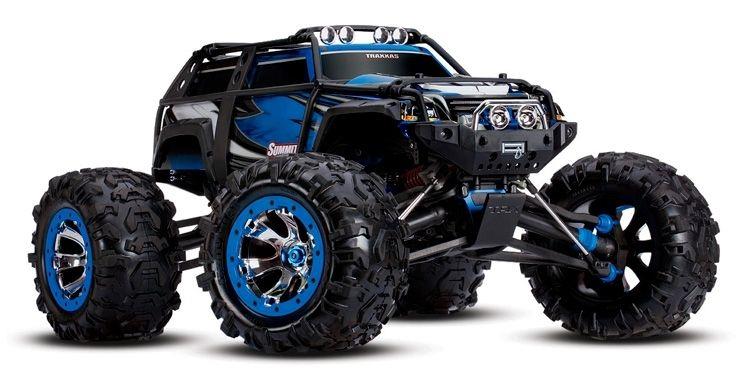 Summit 4WD 1:10 RTR 2,4G TQi
Artikelnummer

10TRX56076-1

Lagersaldo

0

Externt lager

0

Frågor?
9 171 kr
Beskrivning
Versatile All-Terrain Performance with High-Low Transmission and Remote Locking differentials! 2.4GHz Radio System with TQi Now!
NEW! Traxxas 4-amp DC Peak Detecting Fast ChargerNEW! Two Two Traxxas 7-cell NiMH battery with iD™TQi 2.4GHz 4-Channel transmitter and 5-channel receiverInnovative T-Lock™ remote locking differentials let you select front and rear locked diffs, front locked diff, or full open differentials via the transmitterTransmitter-operated High-Low transmission switches from a 70:1 first gear ratio for climbing torque to a 25:1 second gear ratio for trail speed10-LED lighting system opens the door to night-driving funExoCage™ body adds real-rock-rig style and functional protectionRugged 3.8" Geode™ wheels with beadlock-style sidewall protectors mount securely to aluminum 17mm hex hubsMassive 7" Canyon AT™ extreme-terrain tires with soft inserts generate awesome off-road grip
With T-Lock Unprecedented versatility differentials and High-Low Transmission
Only Summit™ gives you the ability to lock the differentials and shift from low to high gear right from the transmitter. No need to break from the action to swap gears or install locking parts. Tear up the trail in "high range" with a 25:1 ratio for dirt-slinging speed. When the terrain turns technical, drop it into "low range" for a 70:1 ratio and unreal climbing torque. For the ultimate in climbing traction, flip the T-Lock switch to lock the front differential. Need even more grip? Activate the rear T-Lock diff for fully-loaded 4WD power no matter which tire is gripping or slipping.
10-LED Lighting System
No need to head for the garage when the sun goes down; Summit lights up the night with an integrated LED illumination system. Four bright white LEDs blaze the trail ahead, while six red LEDs show where Summit's been. The LEDs are integrated into the bumpers for durability and convenience, and the chassis-mounted wiring harness eliminates the possibility of tangles and hooked wires.
The World's Most Advanced Ready-To-Race® Radio System
Summit is equipped with the world's Most Ready-To-Race® advanced radio system. The all-new Traxxas® TQi ™ Arrives with a full complement of features and offers the unbeatable tuning convenience of "no channels, no crystals" 2.4GHz technology-but that's just the beginning. Automatic recognition model của Instantly recalls settings for up to 30 Traxxas Link-enabled models. Just switch on and drive, no naming or "model memory" settings required. Power up the transmitter and the model you want to drive, and the settings for that model are dialed print IMMEDIATELY! The new 2.4GHz transmitter is fully adjustable TQi: steering and throttle end points can be set precisely, and the Multi-Function knob can be programmed to control Steering Sensitivity (Expo), Throttle Sensitivity (Expo), Steering Percentage (Dual Rate), Braking Percentage (Dual Rate), or Throttle Trim. TQi's ergonomic design provides all-day case driving comfort, and the unique internal antenna contributes to its sleek, modern look.
Traxxas 4-amp DC Peak Detecting Fast Charger
For quick, convenient, hassle-free charging, a 4amp peak detecting chargeris included. The charger uses a 12-Volt DC power outlet for charging in the field. The brilliant LED provides charging status while the battery charges. The peak-detecting charger is optimized for charging Traxxas Power Cell NiMH battery packs. Just plug the included Power Cell battery in for a perfect charge, run after run.
Traxxas Power Cell NiMH Battery with iD™
Summit includes two genuine iD-equipped Power Cell NiMH battery packs to make sure you experience all the performance that's been engineered into your Traxxas model.  Accessory Traxxas iD chargers (sold separately) auto-detect Traxxas iD Power Cell batteries and automatically set and optimize charge settings for unmatched charging safety and simplicity. Power Cell packs are optimized for free-flowing power and maximum punch with premium quality, low-resistance cells; flexible, silicone-jacketed 12-gauge wire; heavy-duty welded tabs; and Traxxas' high-output, gold plated, patented, High-Current Connectors. Precision assembly with attractive, individually wrapped cells and clear overwrap complete the Traxxas Power Cell package. For even greater speed and runtime, a full line of optional Traxxas iD Power Cell NiMH and LiPo batteries are available.  Power Cell batteries are Traxxas certified to maximize the performance and speed engineered into every Traxxas vehicle.
SUMMIT (# 56076-1) SPECS
Length: 563 mmFront Track: 469.5 mmRear Track: 472 mmCenter Ground Clearance: 121 mmWeight: 4.98 kg (w/o batteries) 5.75 kg (with batteries)Height (overall): 320 mmWheelbase: 377 mmFront Shock Length: 87 mmRear Shock Length: 87 mmTires Front (pre-glued): Canyon AT ™ (7.1 "x 3.8")Rear Tires (pre-glued): Canyon AT ™ (7.1 "x 3.8")Front Wheels: 3.8 "Geode ™ (chrome)Rear Wheels: 3.8 "Geode ™ (chrome)Speed ​​Control Type: EVX-2 with Low Voltage Detection - Forward / Reverse / BrakeMotor (electric): Titan® 775, High-Torque Fan Cooled (10-turn)Transmission: High-Low Two-SpeedOverall Drive Ratio: Stock, Out-of-Box: 25.34 (high gear) / 70.18 (low gear)Differential Type: Bevel Gear, Sealed, Limited SlipGear Pitch: 32PChassis Structure / Material: Molded Composite Nylon TubBrake Type: ElectronicDrive System: Shaft-Driven 4WDSteering: bellcrankRadio System: TQi ™ 2.4GHz (4-channel)Skill Level: 2Batteries Included: Two Traxxas 7-cell battery with iD™ (NiMH, 7-C Stick)Included Charger: Peak Detecting Traxxas DC Fast Charger 4ampBatteries Required 4 "AA" (transmitter)
EVX-2 SPECIFICATIONS:
Input voltage: 6-14 cells (7.2 to 16.8 volts) / 4-cells (Two 2-cell) Lipo (14.8 volts)Case Size: W57.7 x D50.8 x H26.7 mmWeight: 3.6 ouncesMotor Limit (540 size): 10-turnsMotor Limit (550 size): 12-turnsOn-Resistance (Trans) FWD / REV: 0.004 Ohms / 0.004 OhmsRated Current-FWD / REV: 180 Amps / 180 AmpsCurrent Braking: 360 ampsContinuous Current (@ 38° C AMB.): 30 AmpsReverse Delay: NoneBEC Voltage: 6.0 volts DCBEC Current: 2.5 ampsPower Wire: 14 gaugeInput Harness Wire: 26 gaugeMotor Wires: 14 GaugeTransistor Type: MOSFETPWM Frequency: 1700 HzThermal Protection: Thermal shutdownLow Voltage Detection: 2-Stage indicators, switchable (on and off)Single-button setup: Yes, Traxxas EZ-Set®Profile selection:
Sport Mode: 100% FWD, brakes 100%, 100% reverseRace Mode: 100% FWD, 100% brakes, no reverseTraining Mode *: 50% FWD, 100% brakes, 50% reverse* Patented
Produktinformation
Tillverkare

Traxxas

Tillverkarens artikelnummer

TRX56076-1

Passande bilmodeller

Okänd