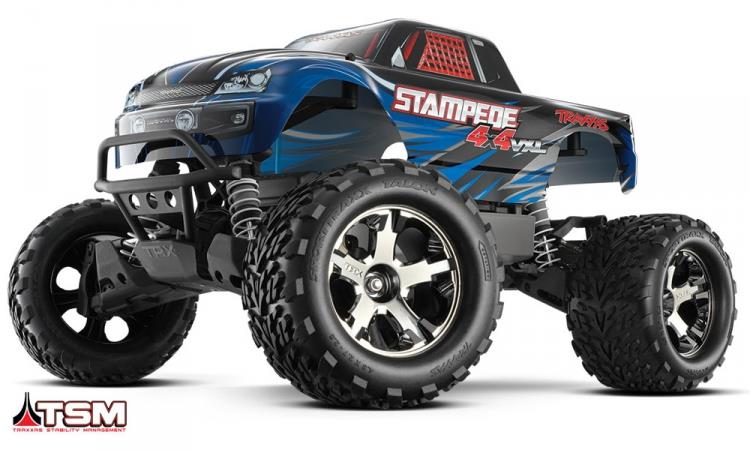 Stampede 4x4 VXL 1:10 RTR TQi TSM
Artikelnummer

10TRX67086-3

Lagersaldo

0

Externt lager

0

Frågor?
5 854 kr
Beskrivning
1/10 Scale Brushless High-Performance Monster Truck With Traxxas Stability Management™!
NEW Traxxas Stability Management™4-amp DC Peak Detecting Fast ChargerTraxxas 7-cell NiMH battery with iD™TQi 2.4GHz Radio SystemAmerica's Most Popular Monster Truck!Waterproof Electronics for All-Weather Driving ExcitementExtreme Brushless Power For a Top Speed of 96+kmh*!
Powered by Passion
We take our monster trucks seriously at Traxxas, and the Stampede 4X4 VXL is engineered like no other to turn extreme power into extreme monster truck fun!  Traxxas Stability Management (TSM) allows you to experience all the extreme power, speed, and acceleration that was engineered into your Traxxas model by making it much easier to control the vehicle on common slippery surfaces such as loose dirt, smooth concrete, and even ice and snow. The efficient, low-mass drivetrain is totally optimized for the brutal torque of Velineon brushless power, and following the legacy of the Stampede name, this 4X4 is overbuilt and Traxxas Tough to withstand all the 4-wheel drive monster mayhem you can dish out. The patented adjustable wheelie bar is required equipment as Stampede 4X4 launches hard, sending the front wheels soaring for the sky. You're in full control with the new Traxxas TQi 2.4GHz radio system and the superior handling of fully independent suspension and smooth bellcrank steering. The Velineon Brushless Power System and included Traxxas iD-equipped Power Cell 8.4V NiMH battery combine to unleash 35+mph, right out of the box. Install a 3S LiPo pack, and Stampede 4X4 shatters the speedometer with 60+mph speed! It's brushless done the Traxxas way: brutally fast and easy to use. Just plug it in and switch it on to feed your need for extreme horsepower.
Traxxas Stability Management
Traxxas Stability Management (TSM) makes it possible to experience all the extreme power, speed, and acceleration that was engineered into Traxxas models by making it much easier to control the vehicle on common slippery surfaces such as loose dirt, smooth concrete, and even ice and snow. Punch it off the line and TSM goes to work sensing the vehicle's direction and making steering corrections to provide straight-ahead fullthrottle acceleration without fishtailing, spinouts, and loss of control. TSM also works during cornering, first making intuitive corrections to maintain the vehicle's line, then hammer the throttle earlier in the turn for much faster exit speeds. Braking is dramatically improved as TSM works to keep Traxxas trucks arrow straight until they come to a complete stop. Traxxas TSM gives all the benefits modern electronic stabilization has to offer without intruding on driving fun or introducing unexpected side effects that can be found on other systems such as drastically reduced turning radius, braking assistance that times out (quits), throttle restrictions, and an overall disconnected driving feel. Traxxas engineers developed superior tuning algorithms that run on high-speed, precision electronic components to create a system that works invisibly, in the background, without ever limiting throttle. TSM can be fine tuned (or turned off) for different surfaces by simply adjusting the multi-function knob on the TQi transmitter, or by adjusting the slider in the Traxxas Link app. The result is driving faster, with more ease, and having more fun. In fact, the driver may not even realize how much TSM is helping until it is turned off and their driving skills are tested without it!
Everything is waterproof and Traxxas-tough as you'd expect. This is off-road performance on a whole new level! (click here for more details)
TSM BENEFITSTSM makes Traxxas vehicles easier to drive, particularly on loose surfacesTSM makes driving more fun by allowing the driver to accelerate harder and drive faster with much greater controlTSM works to stabilize vehicles over rough surfaces as the gyro effect of the spinning front tires continues to "steer" when the vehicle is in the airTSM dramatically improves braking performance, preventing the vehicle from spinning outTSM allows faster cornering speedsTSM never restricts throttle (or fun!)TSM allows the driver to accelerate harder when exiting a turnTSM works invisibly in the backgroundThe driver maintains their connected feel with the vehicleThe amount of TSM assistance is fully adjustableTSM can be turned off or adjusted from the TQi TransmitterTSM is fully compatible with Traxxas LinkTSM does not require any complicated set up or instructions
Proven, Class-Leading, Velineon Brushless Power
Traxxas Velineon Brushless Power system defines a whole new generation of outrageous electric power that doesn't know limitations and boundaries. Pour in the voltage and out comes the speed in tidal waves of force harnessed by precision throttle control. The Velineon 3s Brushless Power System features system components that work together as an optimized package, from the patented Traxxas High-Current connector to the custom-wound motor. It's engineered together from the start to deliver the ultimate in efficiency, speed, and run-time along with precision throttle response and refined control. It's brushless performance the Traxxas way: wicked fast and easy to use. Just plug it in and it works, no special knowledge or programming skills required.
Larger pinion gear/smaller spur gear combinations are for high-speed running on hard, smooth surfaces only.
Produktinformation
Tillverkare

Traxxas

Tillverkarens artikelnummer

TRX67086-3

Passande bilmodeller

Okänd