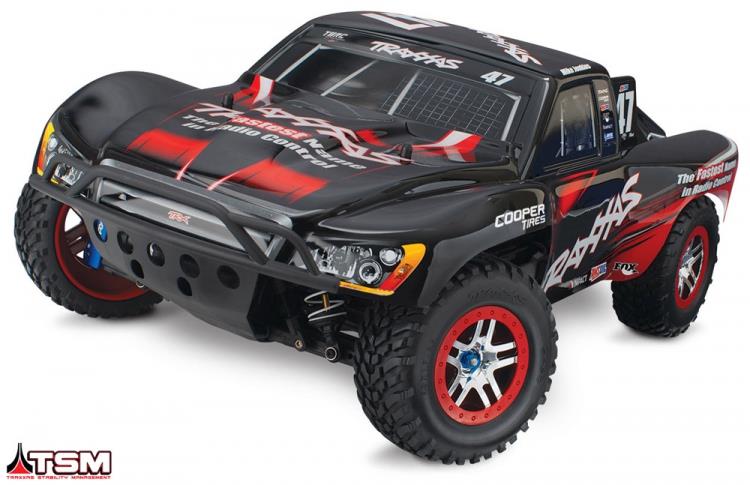 Slash 4x4 Ultimate RTR TQi Telemetri TSM
Artikelnummer

10TRX68077-3

Lagersaldo

0

Externt lager

0

Frågor?
8 300 kr
Beskrivning
Low-CG Chassis. High Volume Shocks. Brushless Power. And now with Traxxas Stability Management!
Slash 4X4 Ultimate is the pinnacle of short course truck performance. Able to run virtually anywhere, from the local track to your backyard, no detail has been overlooked. Slash 4X4 Ultimate is incredibly versatile and lacking in nothing. The Low-CG chassis combined with the large capacity GTR shocks provide a smooth, even ride that's stable and predictable. The Velineon brushless system supplies all the dirt chewing, pavement scorching power to win a race or impress your friends. Factory-installed Telemetry sensors let you keep an eye on vitals and record performance data. Paired with the Traxxas Link Wireless Module and Traxxas Link App, you can make real-time adjustments on-the-fly. Slash 4X4 Ultimate comes 100% fully-assembled and truly is Ready-To-Race.
NEW Traxxas Stability ManagementNEW Traxxas 4-amp DC Peak Detecting Fast ChargerNEW Traxxas 7-cell NiMH battery with iDTMPerformance-optimized Low-CG chassisTQi 2.4GHz High Output radio system with Traxxas Link Wireless Module™Factory Installed Telemetry SensorsTelemetry-ready 5-channel 2.4GHz Micro ReceiverHigh-volume, hard-anodized and PTFE-coated GTR shocksPainted Race Replica BodiesBlue-anodized 6061-T6 aluminum C-HubsBlue-anodized 6061-T6 aluminum steering blocksBlue-anodized 6061-T6 aluminum rear hub carriersBlue-anodized 6061-T6 aluminum axle nutsAdjustable front and rear swaybarsIncluded optional extra-stiff swaybar setSealed, silicone filled center differential (included separately; installs trackside in just minutes replacing the Torque-Control® slipper)
The World's Most Advanced Ready-To-Race® Radio System Now Connects Wirelessly to the Traxxas Link App
The Traxxas TQi paired with the Traxxas Link App is the most advanced, feature-rich, Ready-to-Race®radio system available. Now, TQi connects wirelessly to the latest Traxxas Link App for the ultimate in ease-of-use and control. The TQi radio system can be equipped with the Traxxas Link Wireless Module to unlock exciting features such as instant Bluetooth® connectivity; access to the full range of powerful TQi tuning and telemetry tools through an intuitive high-definition graphical interface; and the ability to have a friend remotely monitor real-time telemetry while you focus on mashing the throttle. Your co-driver can even make adjustments for you, remotely, while you drive. No other radio system can do that. Just like the speed and performance Traxxas engineers into the vehicles, the power and capability of TQi and Traxxas Link expands your fun into all-new territory. Only from Traxxas, The Fastest Name in Radio Control®. Learn more about the new Traxxas TQi Radio System here.
Powerful Traxxas Link Application Available on Google Play and the App Store
     
Traxxas Link App. Gone are the clunky controls and blocky monochrome graphics of yesterday's radio systems. This powerful app gives you complete control over the operation and tuning of your Traxxas radio controlled model with stunning visuals and absolute precision. Traxxas builds the world's fastest Ready-To-Race radio-controlled models. That level of performance demands precision control. Traxxas Link gives you the tools for exacting adjustment and superior control while always keeping you informed on your model's status and speed. The Traxxas Link App is designed for use with Android 4.4+ or Apple iOS 4.3+.
Factory-Installed Telemetry Sensors
Traxxas Link collects and records real-time telemetry data as you drive. The Traxxas Link dashboard comes to life showing you speed, battery voltage, RPM, and temperature. The application automatically detects and recognizes Traxxas Link sensors for easy setup and configuration. The dashboard is fully customizable with either dial or digital readout gauges. Up to nine gauges can be displayed at once. Set threshold warnings and log maximums, minimums, or averages. Use the recording function to document your dashboard view, with sound, so that you can keep your eyes on your driving and not miss a single apex. If you forget to record, simply touch Instant Replay anytime to capture the previous minute of fun and unexpected triumphs. The recordings can be named and saved to compare, review, and share with friends.
Once you have created the perfect control settings for your model, you can save them as a profile that you can restore later, use on another model, or share with friends. If the track conditions change, simply re-tune your Drive Effects and save them as new profile. Only Traxxas Link makes pro-level transmitter tuning fast, convenient, and easy.
Low-CG Chassis
Slash 4X4 Ultimate's performance refinements begin with a Low-CG (low center of gravity) chassis that's unlike anything you've seen before. The battery and electronics are held as deep in the chassis as possible to position weight low in the chassis. Arrow-straight, hard-charging acceleration with Extreme Brushless Power and 4WD requires a chassis that won't flex under load. To offer the necessary rigidity, the chassis is reinforced by integrated ribs that form a triangulated structure optimized for the loads imparted by the suspension and powertrain. Underneath, the chassis is ultra-smooth to reduce drag and prevent snags whether you're blasting through whoops on the track or blazing trails in your backyard. The low-CG design dramatically increases corner speed and stability no matter where you drive. On the racecourse, Slash 4X4 Ultimate's low center of gravity allows high-output Velineon brushless power to be channeled into the track with superior traction, resulting in harder launches and faster lap times.
4-amp DC Peak Detecting Fast Charger
For quick, convenient, hassle-free charging, a 4amp DC fast charger is included to maximize runtime and minimize down time. The included NiMH charger uses a 12-Volt DC power outlet for universal high-output charging. The brilliant LED provides charging status as soon as the battery is connected. The charger is optimized for charging your Traxxas iD Power Cell NiMH battery. Peak-detection circuitry makes sure the battery receives a full charge every time. The status LED flashes green to indicate when charging is in progress, then turns solid green when charging is complete for foolproof charging, peak performance, and maximum runtime.
 
Traxxas Power Cell NiMH Battery with iD™
Slash 4X4  includes a genuine iD-equipped Power Cell NiMH battery  to make sure you experience all the performance that's been  engineered into your Traxxas model. Traxxas iD chargers (sold  separately) auto-detect Traxxas iD Power Cell batteries and  automatically set and optimize charge settings for unmatched charging  safety and simplicity. Power Cell packs are optimized for free-flowing  power and maximum punch with premium quality, low-resistance cells;  flexible, silicone-jacketed 12-gauge wire; heavy-duty welded tabs; and  Traxxas' high-output, gold plated, patented, High-Current Connectors.  Precision assembly with attractive, individually wrapped cells and clear  overwrap complete the Traxxas Power Cell package. For even greater  speed and runtime, a full line of optional Traxxas iD Power Cell NiMH  and LiPo batteries are available.  Power Cell batteries are Traxxas  certified to maximize the performance and speed engineered into every  Traxxas vehicle. Learn more Traxxas Power Cell Batteries here.
Class-Leading Brushless Power
Slash 4X4 Ultmate's Velineon Brushless Power system unleashes outrageous electric power without limitations or boundaries. Pour in the voltage and out comes the speed in tidal waves of force harnessed by precision throttle control. Sheer, brutal power combined with four-corner grip results in tire-melting acceleration and lightning fast speed. The Velineon 3s Brushless Power System's components work together as an optimized package, from the patented Traxxas High-Current connector to the custom-wound motor. Engineered to perform, the Velineon system delivers the ultimate in efficiency, speed, and run-time with precision throttle response and refined control. It's brushless performance the Traxxas way: wicked fast and easy to use. Just plug it in and it works, no special knowledge or programming skills required.
Velineon VXL-3s Electronic Speed Control
The Velineon VXL-3s speed control is loaded with high-grade technology to deliver maximum power to the motor. When running a LiPo battery the two-stage low voltage detection prevents the battery from being over-discharged, and advanced circuit design gives smooth power delivery at any speed. Whether you're navigating a hairpin turn with fine low-speed inputs, shredding the straights with a rush of power, or carefully feathering the throttle to hug the groove in a sweeper, the VXL-3s speed control puts you in command with precise control. When it's time to go all-out for speed, the Velineon power system is ready to send high-output 3-cell LiPo power to all four tires and blast the Slash 4X4 Ultimate past 60mph.
Velineon 3500 Brushless Motor
Extreme performance is standard equipment with the sensorless Velineon motor. Ultra high-temperature Neodymium magnets, high-speed ball bearings, and a precision-balanced rotor deliver power and long life with near zero maintenance. Just drive--since there are no brushes or commutator to wear out, you always get the same blistering acceleration and ballistic top speed every time you hit the track.
Larger pinion gear/smaller spur gear combinations are for high-speed running on hard, smooth surfaces only.
Produktinformation
Tillverkare

Traxxas

Tillverkarens artikelnummer

TRX68077-3

Passande bilmodeller

Okänd