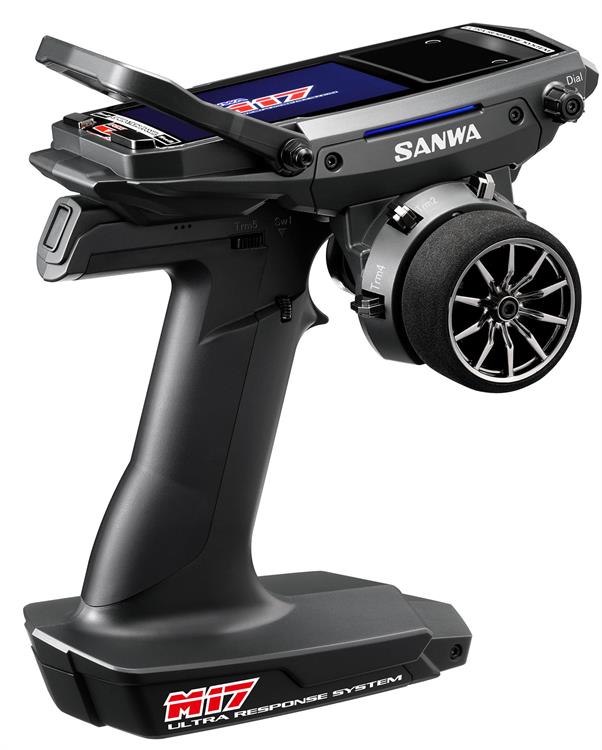 Sanwa M17 Radio + RX-493i Receiver & Preinstalled Battery
Artikelnummer

09101A32483A

Lagersaldo

6

Redo att skickas

2023-12-11

Frågor?
6 850 kr
Beskrivning
World Fastest Response!!
(NEW Record)
Light Weight!!
High Rigidity!!
■Ultra Response Mode (SUR) New Transmitter system "FH5" makes new record of the World Fastest Response.
■Color Display and Touch Panel are easy to control.
■Light weight (about 510g) and high rigidity than M12S
■Steering and Throttle Position Optimization and Steering Swing Adjust Function
■Detachable Throttle Unit is available to change spring by drivers (World First)

■Installed "Fine Color Display (480x320)

■Touch Pad can be smooth & quick to set

■Installed Detachable Throttle Unit is available to change spring by drivers

■Steering and Throttle position can be optimized without off set bracket. Improved Steering Unit can be increased case strength during operation

■Improved Steering Unit is available to be steering swing adjustment

■Battery recharge port is installed and battery can be check when recharging

■Compatible with Micro SDHC Card is available to manage firmware update, model data, and Telemetry Log

■Installed Multi-Setting Function is available to set PGS servos to connect with transmitter

■Compatible with SSL CODE10 and CODE5 function is available to set PGS servos and SUPER VORTEX Gen2 PRO without any connection

■Installed tilt carrying handle can be holding and easy to put in the box

■Steering Unit can change position for lefty

■Detachable Strap Hook is placed on ideal position for drivers

■Succeeded Full Adjustable Trigger can be fittable for individual

■Optional Large Steering Wheel in package is available to be fine operation

■Available to customize by grip pad, brake trigger, angle spacer, and variable spring in package

■RX-491 is compacted receiver and waterproof and is plugged in BIND system and short antenna

■Installed Screen Reader Function is available to sound Lap Time and Telemetry Data and installed headphone jack can be used

■Quick and easy to set as model data and other setting by Quick Set Up Wizard

[Latest Firmware Information]

Firmware Ver. 1.01.10

Update contents are in the below.

Fix Bug for R-MODE copy

[Steps for M17 firmware update]

1. Download the firmware Ver.1.01.10. and unzip folder.

2. Please make "M17" folder in root directory if Micro SDHC card never use for M17. Then, make "update" folder in M17 folder.

3. Save unzipped "M17.prg" and "M17.res" in the "update" folder

4. Insert the micro SD card to M17. (Please take care of Micro SD direction)

5. Go to SYSTEM menu and choose SD-CARD.

6. Click to FIRMWARE and enter [UPDATE].

7. Display "UPDATE OK?" and choose "YES"

8. Start Update and wait until finish

9. When finished update, will display "COMPLETE !"

10. After M17 was restarted, it require update firmware.

11. Go to System and choose SD-CARD.

12. Select LAUNGUAGE and UPDATE.

13. After finished, will display "COMPLETE!"

14. M17 firmware update is completed.

* In case of updating, sometimes M17 will be turned off three times during the updating.

Please turn on the power button if display was black out. (DO NOT take off Micro SD card).

updating will be restart.

*Please DO NOT TURN OFF M17 or DO NOT TAKE OFF Micro SD Card during update.

*Please DO NOT UPDATE in case of LOW BATTERY.

※The firmware can be applied firmware version form Ver.1.01.03 later.

In case of using firmwareVer.1.01.00, the M17 need to be product recall.
Produktinformation
Tillverkare

Sanwa

Tillverkarens artikelnummer

101A32483A

Passande bilmodeller

Okänd