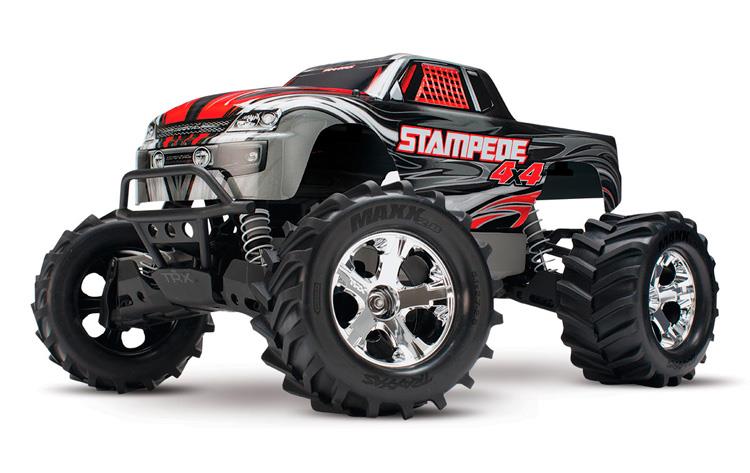 Stampede 4x4 1:10 RTR TQ
Artikelnummer

10TRX67054-1

Lagersaldo

0

Externt lager

0

Frågor?
4 233 kr
Beskrivning
1/10 Scale Brushed High-Performance Monster Truck! Powered by Fun. Whether you're going through muddy water crossings or just having fun crushing your buddies' cars, the Stampede 4X4 just doesn't know when to quit. The Stampede 4X4 is overbuilt and Traxxas Tough to withstand all the 4-wheel drive monster mayhem you can dish out.
Its tall, drive-over-anything ground clearance and ultra-tough, long-arm suspension make Stampede 4X4 feel nearly indestructible. Chrome All-Star™ 2.8" wheels give Stampede 4X4 aggressive style, and soft Chevron Maxx™ tires deliver true multi-terrain capability. The XL-5 ESC and Titan 550 motor dish out plenty of driving excitement. It's all waterproof, so the fun keeps going through all kinds of wet conditions!  No other truck offers Stampede 4X4's unique style, capability, and reputation for durability. Stampede 4X4 is perfect for almost any age driver or skill level and comes fully assembled, painted, and Ready-to-Drive with included 7-cell 8.4V NiMH battery pack and charger. Speed, style, versatility, and fun… Stampede 4X4 has it all!
NEW! Traxxas 4amp DC Peak Detecting Fast ChargerNEW! Traxxas 7-cell NiMH battery with iD™TQ™ 2.4GHz Radio SystemWaterproof Electronics for All-Weather, All-season R/C Driving ExcitementTitan® 12-Turn 550 MotorPowerful XL-5 Waterproof Electronic Speed ControlTough fiber-composite constructionChevron Maxx™ 2.8" tires with foam inserts pre-glued on chrome All-Star™ wheelsProGraphix® painted body graphicsPowder-coated white springsTraxxas' High-Current Connector (patented)48+kmh! (with 21T optional speed pinion gear #423951)
Chassis Optimized for Monster Fun
Stampede 4X4 is built on the proven performance of the advanced shaft-driven 4WD system and innovative modular design of the award-winning Slash 4X4. The chassis fully integrates the electronics and battery compartment for an efficient and compact layout, and maintains the high center ground clearance that gives Stampede its monster stance and high-riding look. The extra clearance drastically increases the off-road versatility that allows you to tackle rougher terrain and bigger obstacles. The Stampede 4X4 feels planted and secure at speed, even on pavement and in other high-grip conditions. Stampede 4X4 is 100% monster truck, but it handles like a racing machine!
Produktinformation
Tillverkare

Traxxas

Tillverkarens artikelnummer

TRX67054-1

Passande bilmodeller

Okänd