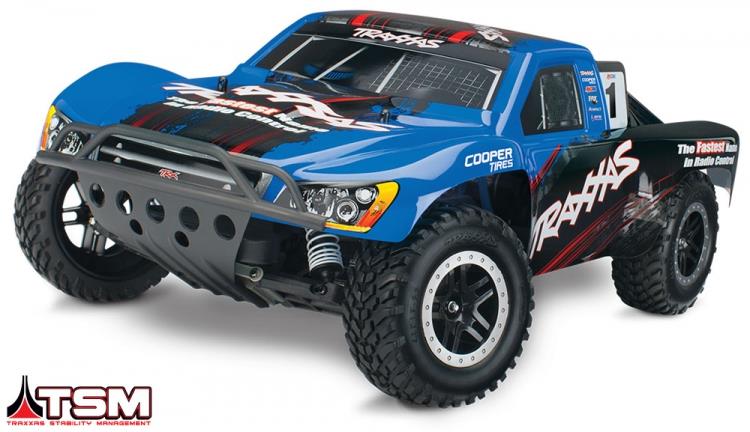 Nitro Slash 2WD TQi 2.4G TSM
Artikelnummer

10TRX44056-3

Lagersaldo

0

Externt lager

0

Frågor?
4 605 kr
Beskrivning
Nitro Slash® - Hard-Charging 80+kmh Pro 2WD Short Course Performance!
NEW Traxxas Stability Management™ (TSM)Authentic Pro 2WD Action in a Nitro Powered Short-Course Race TruckOfficially licensed Racing Replica bodies and tires80+kmh!TRX® 3.3 Racing EngineTQi 2.4GHz Radio System
Nitro Slash Award-Winning TRX 3.3 Power!Proven Slash performance. Legendary TRX 3.3 Power! As only Traxxas can, heavyweight horsepower is combined with a lightweight 2WD chassis to deliver astounding performance and over-the-top fun. The award-winning TRX 3.3 engine gives the Nitro Slash tire-melting thrust that is far more than any driver needs--and exactly what every driver wants. It takes Traxxas-Tough durability and a stout drivetrain to handle the TRX 3.3's outrageous output. Nitro Slash delivers with proven components that have made the Slash the standard for durability, and fun. The extra large capacity of the 150cc fuel tank keeps the action running longer between fill ups and the exclusive EZ-Start electric starting system makes starting as easy as pressing a button.
Extreme Power TRX 3.3 Racing EngineWhere Power Meets Technology® For those who like their horsepower raw and screaming at the red line, Nitro Slash delivers with the award-winning nitro fury of the TRX 3.3 Racing Engine. Nitro Slash punches hard with massive torque off the line and a wide powerband—bury the throttle at anytime to send the rear S1 compound tires into a raging fury of roosting dirt. The TRX 3.3 Racing Engine features a precision composite slide carburetor, PowerTune™ cooling head, dyno-proven IPS crankshaft, multi-port rear exhaust, and the starting convenience of the exclusive Traxxas EZ-Start® system. It's competition-proven power with convenience and reliability for all-day driving fun.
Accelerate Faster/Corner Faster/Brake Harder/Stay in ControlTraxxas Stability Management (TSM) allows you to experience all the extreme power, speed, and acceleration that was engineered into your Nitro Slash making it much easier to control on common slippery surfaces such as loose dirt, smooth concrete, and even ice and snow. Punch it off the line and TSM goes to work sensing the vehicle's direction and making steering corrections to provide straight-ahead full-throttle acceleration without fishtailing, spinouts, and loss of control. TSM also works during cornering, first making intuitive corrections to maintain your line, and then allowing you to hammer the throttle earlier in the turn for much faster exit speeds. Braking is dramatically improved as TSM works to keep you arrow straight until you come to a complete stop.
The World's Most Advanced Ready-To-Race® Radio SystemNitro Slash is equipped with the world's most advanced Ready-To-Race® radio system. The all-new Traxxas® TQi™ arrives with a full complement of tuning features and offers the unbeatable convenience of "no channels, no crystals" 2.4GHz technology—but that's just the beginning. Automatic model recognition instantly recalls your settings for up to 30 Traxxas Link-enabled models. Just switch on and drive, no naming or "model memory" settings required. Power up the transmitter and the model you want to drive, and the settings for that model are dialed in immediately! The new TQi 2.4GHz transmitter is fully adjustable: steering and throttle end points can be set precisely, and the Multi-Function knob can be programmed to control Steering Sensitivity (Expo), Throttle Sensitivity (Expo), Steering Percentage (Dual Rate), Braking Percentage (Dual Rate), or Throttle Trim. TQi's ergonomic case design provides all-day driving comfort, and the unique internal antenna contributes to its sleek, modern look.
Built Traxxas Tough™Nitro Slash is not only built to perform with its adjustable slipper clutch, disc brake, and race-inspired suspension geometry, it's also built Traxxas Tough™ for all-day driving fun. Nitro Slash's robust design keeps annoying breakage to a minimum so that the action can keep going on and on. The rugged 6061-T6 aluminum chassis forms a rock-solid backbone that also draws heat away from the engine. Full rubber-sealed ball bearings provide the ultimate protection and low maintenance for nitro environments. The Magnum 281™ transmission uses a steel-composite planetary gear differential with built-to-last hardened steel gears. The gear diff requires no time-consuming adjustment and is virtually maintenance free. The oil-filled Ultra Shocks™ use exclusive X-ring seal technology for reduced friction and superior leak resistance. Traxxas engineers are dedicated to keeping you on the throttle, not on the workbench.
QUICK FEATURES ON NITRO SLASH (#44056-3)NEW Traxxas Stability Management™ (TSM)TQi 2.4GHz Radio SystemHigh-Torque steering and throttle servosRace Replica SCT wheels with color-coordinated centers and beadlock trimAggressive, authentic Pro 2WD body designTRX® 3.3 engine with EZ-Start® electric startingTuned exhaust system with blue-anodized aluminum headerCompact enclosed receiver boxHigh-flow dual-stage air filterLarge capacity 150cc fuel tankHeavy-duty drivetrain with rubber-sealed ball bearingsReady-To-Race® with race replica factory-finished and decaled body2amp DC peak detecting fast charger
* The Robby Gordon Edition Nitro Slash is equipped with Slash short course tires.
NITRO SLASH (#44056-3) SPECSLength: 565 mmFront Track: 296 mmRear Track: 296 mmWeight (no fuel): 2.61 kgHeight (overall): 188 mmWheelbase: 332 mmFront Shock Length: Long Ultra ShockRear Shock Length: XXLong Ultra ShockFront Tires: Slash SCT 2.2" (Pre-Glued with Inserts)Rear Tires: Slash SCT 2.2" (Pre-Glued with Inserts)Front Wheels: 2.2" Short Course Race ReplicaRear Wheels: 2.2" Short Course Race ReplicaWheel Diameter: 2.2 Inches (56 mm) Outer - 3.0 Inches (76 mm) InnerGear Ratio: 2.81Transmission: Nitro Magnum 281Differential Type: Steel Composite PlanetaryChassis Structure/Material: 2.5mm, 6061-T6 Blue-Anodized AluminumBrake Type: Steel Disc with semi-metallic padsDrive System: Shaft-Driven 2WDSteering: Bellcrank with integrated servo saverRadio System: TQi 2.4GHz with TSMEngine (fuel-powered): TRX® 3.3 Racing Engine with EZ-Start®Fuel Tank Capacity: 150 ccTop Speed: 80+kmhSkill Level: 4Included Accessories: EZ-Start® Power Cell and 2-amp Peak Detecting Fast Charger, Fuel Bottle, Extra Glow Plug and Air Filter, Precision Tool Set
Produktinformation
Tillverkare

Traxxas

Tillverkarens artikelnummer

TRX44056-3

Passande bilmodeller

Okänd