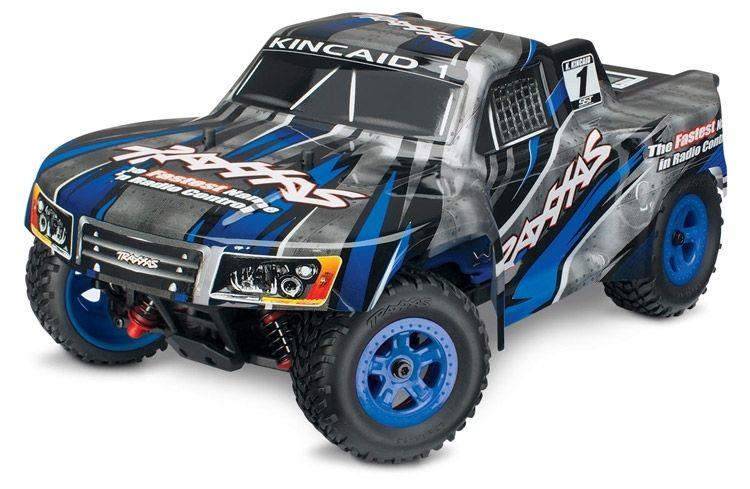 SST Truck 1/18 4WD RTR LaTrax
Artikelnummer

10TRX76044-1

Lagersaldo

0

Externt lager

0

Frågor?
1 861 kr
Beskrivning
The LaTrax SST™ takes the fun of off-road Stadium Super Truck racing and packs it into a convenient, take-anywhere, 1/18 scale size. Equipped with a powerful motor, independent suspension, and 4-wheel drive, the SST is Ready-To-Race® right out of the box. A waterproof power system opens the door for all-weather driving excitement year round. Oil-filled shocks soak up the bumps and jumps, and provide smooth suspension movement over any terrain. Ball bearings combined with an efficient drivetrain and power system translate to smooth running and longer runtimes, while providing aggressive acceleration and exciting speed.
Like its full-size counterpart, SST is built to be fast and nimble while being extremely durable and able to withstand the rigors of all-terrain racing action. The all-weather electronics defeat the elements—driving through mud, snow, and water. The 2.4GHz radio system provides dependable, long-range control. SST is perfect for any age driver or skill level and comes fully assembled, painted, and Ready-To-Race with the included 6-cell 7.2V NiMH battery pack and 2amp DC charger. Everything you need is included in the package. The LaTrax SST is Powered By Traxxas, protected by world-class Traxxas support and 100% parts availability.
Fully assembled and Ready-To-RunProGraphix® multi-colored painted bodySST tires mounted on red or blue, 5-spoke wheelsImpact-absorbing front and rear bumpersAdjustable-height body mountsWaterproof, All-Weather Electronic Speed ControlInnovative all-weather designFully-proportional forward, reverse, and braking control
Programmable with three drive profiles:
Sport Mode – Forward / Brake / ReverseRace Mode – Forward / BrakeTraining Mode – 50% Forward / Brake / 50% Reverse
EZ-Set® push-button setupMulti-color LEDThermal shutdown protectionEfficient, low-loss MOSFET designSmooth, high-frequency operationPowerful 370 brushed motorIncludes LaTrax 7.2V 6-cell NiMH battery pack and chargerHigh-torque waterproof sub-micro steering servoWeather-sealed receiver box (patent pending)Full-time 4WDFront and rear gear differentials with steel ring and pinion gearsFront C-hub design with universal driveshaftsRear axle carrier with universal driveshaftsOil-filled shocks with variable mounting positions4-wheel fully independent suspensionFiber-composite chassisSpeed control and receiver are securely fastened to chassisQuick-release battery hold-down for fast battery pack changes
Produktinformation
Tillverkare

Traxxas

Tillverkarens artikelnummer

TRX76044-1

Passande bilmodeller

Okänd