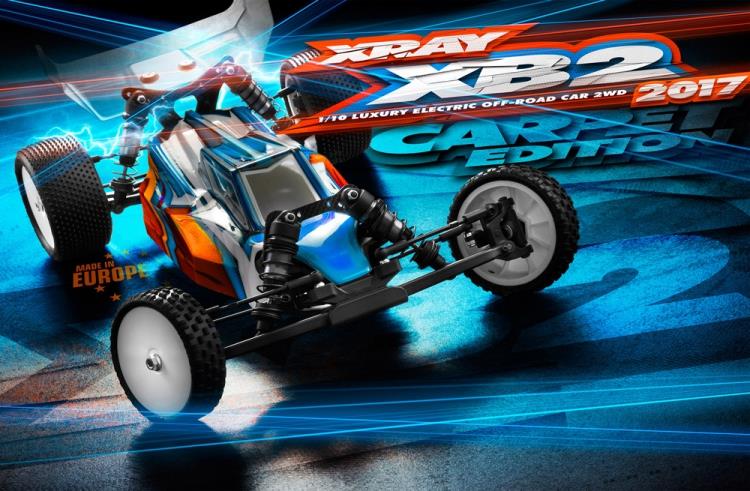 XRAY XB2'17 Carpet Edition 2WD El-buggy 1:10
Artikelnummer

10320002

Lagersaldo

1

Externt lager

0

Frågor?
Just nu: 2 995 krOrdinarie pris: 3 989 kr (25% rabatt)
Beskrivning
XB2 Carpet Edition 2017 All-New Features:Motor position
Gear box
Gear box gears 36T
Motor plate
Rear suspension holder
Shock pistons
Composite plate braceIncreased steeringIncreased tractionImproved high-speed stabilityImproved reliability
Motor Position.
To increase traction, steering and high-speed stability, the motor position was changed from left to right position. This new position achieves a different motoric moment which improves handling in most typical track conditions.
Gear Box.
The lightweight, tiny gear box has a new internal design, accommodating a new 3-gear configuration as a result of the new right-side motor position.
Gear Box Gears.
With the all-new right side motor position and new gear box, the internal gears of the gear box are also new. The new large 36T gear – which fits the new 3-gear configuration – is moulded from premium graphite composite to ensure maximum life, high strength, and minimal weight.
Motor Plate.
The black-coated Swiss 7075 T6 aluminum motor plate has a new design to accommodate the new right-side motor position. The motor plate holds the slipper clutch assembly as well as the gear box, and features an adjustable motor plate position. To reinforce the assembly, the motor plate is connected to the upper brace mount via a motor plate brace.
I.S.S.™ Suspension Holders.
To improve reliability and strength the Swiss 7075 T6 aluminum suspension holders were reinforced and strengthened. The aluminum suspension holders feature Integrated Suspension Settings (I.S.S.™) which allows for quick & easy suspension geometry set-up. Using eccentric suspension bushings – which are inserted into Swiss 7075 T6 aluminum suspension blocks – as well as additional shims and turnbuckles, the XB2 suspension geometry can be completely adjusted:
CamberToe-inRear roll-centerAnti-squatTrack-width
Shock Pistons.
Shock pistons are made from Delrin® and are molded using ultra-high precision moulds. All-new 2-hole pistons (1.6mm and 1.7mm holes) are now included in the set.
Dimensions:
Class: 1/10 electric 2WD off-road carWidth: Adjustable 245-250 mmLength: 274 mm (394 mm with wing)Wheelbase: Adjustable  282-285 mmReady-to-run weight: 1520 g
Chassis:
Chassis: CNC-machined Swiss 7075 T6 aluminum 2mmFront upper deck: Hard composite
Suspension:
Suspension: Adjustable suspension via Integrated Suspension System I.S.S.Rear suspension: Lower arm with adjustable upper camber linkFront suspension: Lower arm with adjustable upper camber link and with adjustable caster 0°, 2.5° and 5°Rear upright: Composite 0° toe-in with dual arm mounting and 7 roll center positionsShocks: Membrane free shock absorbers with Delrin pistonsShock towers: Front & rear machined 4.0mm & 3.5 mm laminated carbon graphite (Carpet Edition) or composite (Dirt Edition) with multiple shock mounting
Drivetrain:
Type: 2WDPrimary: Pinion / spurDrive shafts: HUDY Spring Steel™ CVD drive shaftsDifferential: Sealed gear differential, 6 gear, silicone-filledSlipper clutch: Adjustable 3-PadBearings: Rubber-sealed high-speed bearings
Gearing:
Primary ratio: 1:2.65Gear Box gear: 36TDifferential pulley: 53TSpur gear: 84T (75T, 78T, 81T & 87T option)Motor pinion: Not included
Geometry:
Camber: Adjustable front + rearFront Caster: 26° static + caster in caster block = 26°, 28.5°, 31° total caster rangeToe-in: Adjustable front + rearDownstops: Adjustable front + rearFront kick-up: Adjustable 26°~31°Rear anti-squat: Adjustable 0°~4°Anti-roll bars: 1.0 mm, 1.1 mm, 1.2 mm rear (option only)Ackermann: AdjustableBump steer: AdjustableSteering: Centrally-positioned dual steering system
Body, Tires, Wheels & Misc:
Body: XRAY XB2 bodyTires: Not includedWheels: XRAY Aerodisk 12mm Wheel hex hub
Adjustment Possibilities:
Standard adjustment: Camber, toe-in, caster, track width, wheelbase, kick-up, anti-squat, roll center, Ackermann, bump steerInstructions: Full-color manual with 3D graphics (40 pages)Additionally included:
HUDY Graphite Grease, Silicone Oils, Authentication Certificate, Parts list & Exploded view, Decals
Items Not Included:
Radio system (transmitter and receiver), steering servo, motor, pinion gear, LiPo battery packs, speed controller, charger, tires, inserts, double-sided tape, CA glue, bearing oil, medium-grade (blue) threadlock, universal tool for all nuts and turnbuckles and other tools
Produktinformation
Tillverkare

Xray

Tillverkarens artikelnummer

47320002

Passande bilmodeller

Okänd